Resilient rubber Poured-in-Place surfacing systems have become the preferred surfacing material for playgrounds across the country. Poured on-site by a factory trained crew, this unitary rubber system looks like one big seamless playground mat. They are accessible, colorful, and require little maintenance. The rubber surfacing can be installed over concrete, asphalt, or crushed stone and is IPEMA certified for 4′ to 12′ critical fall heights. Creative graphics and mounds can be incorporated as well.
NuToys proudly offers the following brands of Poured-in-Place surfacing:
Illinois & Indiana
PlayBound by Surface America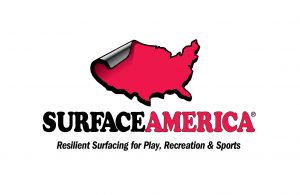 Missouri
PlayPour by PlayPour

50% color and 50% black is standard; 100% color available upon request.  Custom color combinations available.